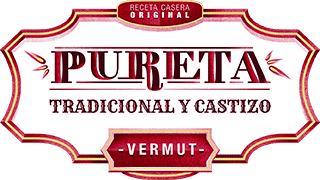 One elbow at the bar´s counter ...
To fix the world

After almost forty years forgotten, one day the recipe for our grandparents´ homemade vermouth appeared.

Once we found that treasure, we devoted our energy to rescue our family´s tradition of making vermouth. After two years of testing and modifying the initial recipe, we can proudly show the rebirth of Pureta.
Pureta has an old, yet lively, spirit that is always full of reason. Pureta is a vermouth that helps you solve all the world's problems, like a superhero, just by leaning an elbow on the bar´s counter during a Sunday´s aperitif.